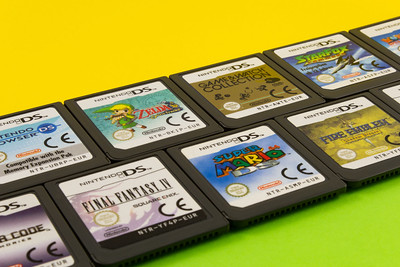 Cost to Repair Nintendo 3DS
Our most common requests for repairs are broken Top Screens, Charge Ports, & Game Cart Reader issues, but here is a list of the other repairs we offer :
$

65

: $

95

:

Top Screen Replacement

$

45

: $

65

:

Bottom Screen Replacement

$

65

: $

65

:

Case or Hinge Damage / Case Replacement

$

45

: $

45

:

Charging Port Replacement

$

65

: $

65

:

Game Reader Replacement
As you can see, we service a wide variety of the most common damaging issues to these hand held gaming units. They are portable, entertaining, & rather accident prone. With years of experience in repairing all of the many of released versions, we certainly have the technical requirements to assess, & correct any issue.
3DS Repair Shop
Unable to read or play Nintendo 3DS, 3DS XL, DSi, or DS Lite games
Battery does not charge
Damaged Charge Port
Cracked or Scratched Top LCD Screen
Cracked or Scratched Bottom LCD Screen
Broken Top or Bottom Screens
Broken Power Switch
Broken Thumb Stick
L/R Buttons do not respond
Even if you don't live in the Akron, Canton, Kent, or even Columbus or Cleveland areas, you can mail your Nintendo 3DS to us for repairs. We offer Nintendo 3ds repair nationwide, by accepting mail in units.
Do you find that your 3DS Purple is suddenly not charging? Need mail-in repair service for your Nintendo 3DS? If you are going to send in your 3DS Nintendo system for repair, please include your contact information in any packaging sent to us. Repairs typically take 24 to 48 hours upon arrival of your shipment & you will be notified of return shipping tracking information upon completion. If we find any other problems with your system, we will notify you first before we start any repairs. Should any system deemed un-reparable, if the customer wishes to have it sent back we will gladly do so at no cost. All packages should be sent to:
3DS Screen Replacement
After hours of gameplay, screens can become scratched or even broken.
We keep stock on hand of both top & bottom screens for faster turn around time to the customer. Screen replacement is $65 + sales tax, & is generally completed within 2 business days.
3DS Card Reader Repair
The pins on the Nintendo 3DS card reader can get easily bent or correded causing game play issues. Just like the screen replacement service, we also keep a number of card readers on hand & ready for repairs. The cost of repair for a card reader replacement is $65 + sales tax, & is generally completed within 2 business days.
Nintendo Charging Issues
If your Nintendo 3DS is not charging when plugged in, there could be any number of issues. If the charge port is broken, or if you have blown fuses, the power logic circuit will not complete the connection to the battery & will fail. We can fix these issues on your Nintendo 3DS. Charging port replacement or fuse replacement is $45 + sales tax, & is generally completed within 2 business days. More & more units that are brought or mailed in are having charging issues, or are not able to charge at all from a broken charge port.
Warranty
All of our Nintendo 3DS Repairs, Services, & Parts are covered by a 6 month warranty. If you have any issues or questions about your repair, please call us & we will be happy to correct the situation.
Location?
Don't live near Akron or Cuyahoga Falls Ohio? No problem. We have serviced Nintendo DS hand held systems from states as far away as Washington, California, & Florida, just as well as those in between. Feel free to give us a call, or just send it on it's way. We also cover the cost of returned shiping, you only have to pay to get it to us. Once received, you can expect a call confirming it arrived & provide you with a quote before any work begins. Live in Cleveland or Columbus & don't want to drive it in for repair? Again, no problem, the same service is provided to you as well.
Don't let Zelda or Mario down! Get them back to saving their princess! If your 3DS is Purple, Pink, Blue or Black, we'll get it fixed & back into your gaming hands!
A larger model of the 3DS console, named the Nintendo 3DS XL, was released in August of 2012. It features screens that are 90% larger than the original Nintendo 3DS. While still playing Nintendo 3DS & DS games, it removes the autostereoscopic functionality, &changes the form factor to a fixed, "slate" design. The prices provided above are for the Nintendo 3DS only, except where specifically mentioned.
Screens Flash/Flicker White
When either of the screens flash white, the problem with the Nintendo 3DS is that the power on test fails due to a damaged screen. The screen that you notice flash white is good. The one that does not flash or flicker is either not receiving power or display signal. In a situation where both screen flicker white, one of the fuses to the unit is either blown or bad. Fuses can blow from bad charge ports or water damage and corrosion.
3DS Repair Videos
Replacing L&R buttons on a teal Nintendo 3DS
Replacing the DC Jack on a red Nintendo 3DS